News
Coming soon! 9060 Blade.
NeoLoch™ 5101 RAM Tester Kit
(Discontinued, Click here for the new version of this product)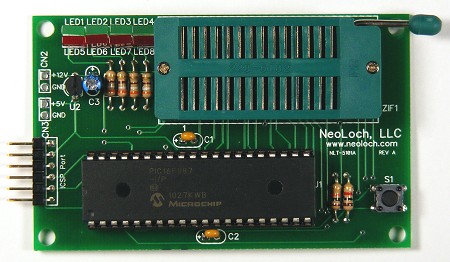 The 5101 RAM Tester was originally designed to test 5101 RAM ICs commonly used in pinball machines. However, to make the tester usuable for far more than just that one simple task, the MCU can both be replaced with other pin-compatible MCUs and programmed to other purposes.

The simple design allows for ease of operation for determining if a IC is good or bad.


Features of the tester:
40 pin PIC16F884 microcontroller (programmed with 5101 tester code)
28 pin ZIF socket
Control switch
Programming port
Onboard voltage regulator
40 pin socket for MCU, allowing the use of a wide range of Microcontrollers.
4 mounting holes
2 bypass capacitors to insure stable operation.




A bug was discovered in firmware version 1 and 2 that prevented some RAM ICs from testing correctly. This problem has been corrected in firmware version 3 and it is HIGHLY recommended that you either update the firmware yourself or submit your current MCU to NeoLoch for a free upgrade (details below). All testers purchased after 1/23/2013 have firmware version 3.



Updating The Firmware Version
If you wish to update the firmware yourself, you'll need access to a programmer compatible with the PIC16F884. Download the the current firmware version and program the PIC using MPLAB X IPE or a stand along application, such as the PICKit 2 stand along programmer.

If you don't have access to a programmer, NeoLoch will upgrade your current MCU at no charge. Simply mail your MCU to NeoLoch along with a note explaining the situation and we'll upgrade the firmware version and return the MCU to you at no additional charge. To get your MCU upgraded, please contact us for shipping instructions.

Note: When packaging an IC for shipment please take extra care to make the packaging think, bubble wrap works great for this. A thick package won't be machine handled, which typically results in a squished IC.

all
NeoLoch, LLC
code listed on this page is licensed under the
Creative Commons Attribution-NonCommercial 3.0 Unported License
.
Fireloch is a trademark of NeoLoch, LLC
ICSP, PICkit are trademarks of